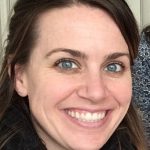 Warm greetings and Happy New Year!
WOW. Does anyone else feel like 2018 was over in the blink of an eye? Where does the time go?
We accomplished a lot in 2018, but there will always be more things to learn and more opportunities to grow. Together with the National Board, I continue to look for ways to improve the operations of this organization. I value the time and commitment from all who serve on the Board as well as you, our members, who give your time, talents, and financial contributions to continue the work of Kappa Gamma Pi.
Now that 2019 is here, let's get excited about the upcoming National Convention. Who will be joining me in Portland? The next NEWS will include important information about the Convention, so please plan to review all of the presented materials. The National Board is excited to process business with you in Portland, and please know that I am available to answer any questions you may have leading up to our time together.
As I did at the start of last year, I ask you again this year to continue to engage with other Kappas. I ask that you keep the National Office informed when you move, change jobs, or experience other life events. I ask that you go back to your college or university and make connections with new Kappas. I ask that you prioritize attending the 2019 Convention. I ask that you pay your dues and contribute to our scholarship fund. I ask that you pray for the Board. I ask that you give back to your community with your time and talents. I ask that you act in kindness and love in all that you do.
I look forward to seeing all of you in Portland this year!
In Faith and Service,
Katie Pease
St. Catherine University, St. Paul, MN, '10
Kappa Gamma Pi National President
[email protected]