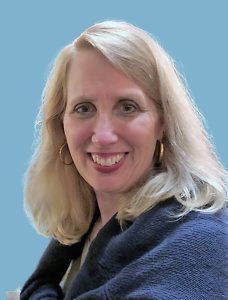 Hello, Kappas!
A little history about my 35 years as a Kappa
Following in my mother's footsteps, I attended Holy Names University in Oakland, California. My mother, Kathleen Gallagher Dunlap, is a Kappa from the HNU Class of 1960. When I graduated in 1988, I was honored to once again follow in her footsteps by being nominated to KGP. When the San Francisco East Bay Chapter formed in the early '90s, Mama and I joined and worked together helping to plan the KGP National Conventions that were held on the Holy Names campus in 1997 and 2007.
In 2009, Pamela Wright Waitinas (Notre Dame College, OH, '61) called me to ask if I would succeed her as editor of the Kappa Gamma Pi NEWS. I said yes and then served as NEWS editor for 10 years—a fascinating and rewarding assignment that allowed me to meet and interact with scores of amazing Kappas. In 2019, I agreed to serve as KGP Recording Secretary. Now, I am deeply honored to serve as National President for Kappa Gamma Pi for 2023-2025.
A little bit about Kappa's history
KGP has grown in size and scope since its founding in 1926. Originally, there were 29 affiliated Catholic colleges that nominated lay women graduates to membership in Kappa. In 1967, KGP extended membership to members of religious orders and graduates of various faith commitments. In 1981, men graduating from affiliated institutions with honors were eligible for nomination to Kappa for the first time. More recently, KGP's nomination criteria has been expanded to include honor graduates who were ineligible for membership at the time of their graduation, graduates of master's degree and doctoral degree programs, and one administrator per year from each affiliated college/university. More than 59,000 graduates of 143 Catholic institutions have become members of Kappa Gamma Pi.
Unfortunately, due to the rising cost of education, increasing socio-economic pressures, and shifting enrollment patterns, many colleges and universities have closed in recent years. The number of affiliates nominating to KGP has decreased, and the coronavirus pandemic also negatively impacted nominations. Stepping into the role of National President at this moment seems bittersweet as my alma mater Holy Names University closed in May, concluding 155 years of Catholic education in Oakland. Thus, graduates selected from the HNU Class of 2023 are the final Holy Names Hawks to become Kappas. I challenge each of you to reach out to your alma mater—or another KGP affiliate near you—and with the assistance of the KGP National Office, help encourage new nominations to Kappa.
Looking forward to Kappa's 100th anniversary in 2026
As we prepare to celebrate Kappa's centennial, I am excited to work with an excellent slate of KGP National Board members and with you as together we chart KGP's path forward.
What ideas and recommendations do you have for KGP and for planning our 47th biennial National Convention in summer 2025 that will kick off Kappa's 100th year? I welcome your comments and suggestions. Please feel free to contact me anytime.
In Faith and Service,
Anne Dunlap-Kahren
Holy Names University, CA, '88
Kappa Gamma Pi National President
[email protected]