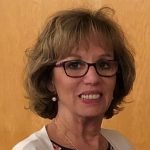 Welcome and what an honor to be serving as the National President for Kappa Gamma Pi. 
I was inducted into Kappa in 1990 and have had the privilege of being involved in varying capacities. I have served on the Kappa National Board as the I, II and III Vice President and now as your National President. Each position has been rewarding and having the privilege of meeting so many phenomenal Kappas has been such a blessing. 
My focus this term will be to strengthen the liaison program for our universities and colleges with the help of our III VP, Len Bissa. I challenge each one of you to reach out to your alma mater and the National office to explore ways you can help support our affiliates to seek nominations. As you can imagine, nominations have decreased and Covid did not help this situation. Most colleges are now back meeting and will hopefully resume their award programs.
Our membership is also on the downward trend.   Why?  What makes Kappa different from other organizations?  It is simple. Look at our mission statement that is posted on our website. When I am asked about Kappa and what it is, my response is simple:
Kappa Gamma Pi is a Christian Honor Society to which I was nominated and inducted by my university.
Our motto is faith and service, which we pledge to continue throughout our lifetime through leadership in church and secular affairs and community service.  
As your National President, I am committed to the growth and sustainability of this organization. Kappa is celebrating 95 years this year and will see their 100th anniversary in 2026.    
I invite your comments, ideas and suggestions. Please feel free to contact me anytime.
In Faith and Service,
Susan (Sue) Smith Jaros
Lourdes University, Ohio, '90
Kappa Gamma Pi National President
president@kappagammapi.org