The Saint Catherine Medal for Student Achievement is an annual award for presentation at colleges and universities affiliated with Kappa Gamma Pi, the National Catholic College Graduate Honor Society.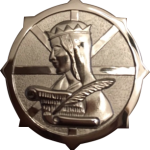 The medal depicts the traditional patroness of Kappa Gamma Pi, Saint Catherine of Alexandria, virgin martyr (c 310), encircled by the spiked wheel of her legendary martyrdom and holding a quill and scroll, which symbolize learning and wisdom. Saint Catherine has long served as an inspiration for individuals who aspire to obtain knowledge and to stand their own ground against constraints placed upon them.
Kappa Gamma Pi offers the Saint Catherine Medal to honor a student who represents the high ideals of a Catholic college education.
The recipient (an undergraduate or graduate student) is selected by the faculty and/or classmates on the basis of leadership and service to the college. Kappa Gamma Pi membership qualifications are not requirements for this award. The Saint Catherine Medal is available in a choice of four metallic finishes: bronze, gold-plated, sterling silver and yellow gold-filled. It was designed by a Cleveland Kappa, sponsored by the Cleveland Chapter and first awarded in 1956 at three Cleveland Chapter affiliates.
Catherine of Alexandria Pamphlet