You're invited to attend our tour of the Rosary Cathedral.
WHEN: Saturday March 7, 2020 @ 10am (please arrive by 9:50a – the tour starts at 10:00a)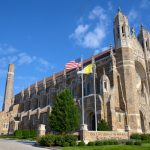 We recommend that you use exits 203 A or B on I-75 to drive to Rosary Cathedral from outside Toledo. From 203A exit onto Bancroft Street, head east on Bancroft and turn north (left) onto Collingwood Blvd. The Cathedral property will be on your left after 4 blocks. From 203B exit onto Detroit Ave./24, head northeast on Detroit Ave. Turn east (right) onto Delaware Ave. The cathedral property will be on your left after 6 blocks.
They encourage visitors to use the south entrance to the cathedral that is attached to the parking lot. This entrance features an accessible ramp and is most commonly unlocked.

When you arrive, please drive in between the cathedral and the school buildings. The entrance that will be open is along the side of the cathedral where the ramp is. The left door at the ramp entrance is the only door that is open.